You'd think eating on $2 a day would be enough of a challenge, but, in typical Live Below the Line fashion, there are always unexpected trials.

The one we're talking about today, is fundraising. It's the bane of the challenge for many Live Below the Liners and it rears its not too attractive head shortly after you sign up.

It's frustrating because it doesn't just happen. Well, not on its own at least, It requires effort, and more than that, persistence. Getting to your target goal is a huge accomplishment.

And once you do get there (trust us, you will), you then have to start worrying about shopping, budgeting, cooking and all the other hurdles of living on $2 a day. But let's just take things one step at a time for now.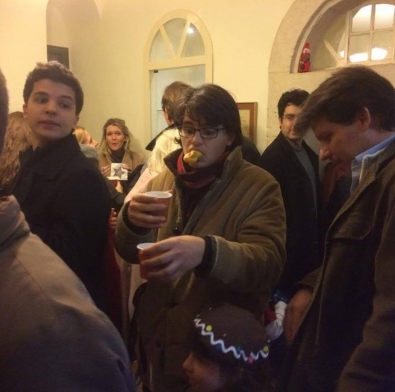 To help you guys out, we've brought in Oaktree's political director, Finbar Piper to share some tips.

Don't let his peculiar means of food consumption fool you - this guy is a bona fide fundraising superstar. Already, he's amassed $479.36 of his $500 goal!

So, without further ado, here are Finbar's tips!




Email: reach out to extended family members and family friends who may not have heard of LBL before. Share the story behind LBL and ask for help to reach your goal. Ask them to circulate your LBL profile to their family and friends

Facebook - Timing: posting at moments when people are likely to be online (6-30-8.30 pm), spacing your posts so that you don't get donor fatigue and people don't become desensitized to your posts (at least several days, ideally a week)

Get started early: especially to combat donor fatigue on FB.

Set yourself weekly targets - so there is a method to your madness and you don't forget to fundraise before it's too late to raise much money!

Throw in some humour to your pitch, everyone loaves a pun.

Find someone else who is raising money and compete with them to spur you on! I've been doing this with Oaktree's Head of Marketing and Fundraising, Amy Pearce ... and sorely losing... but hopefully not for long!

The Gamble Approach: named after Oaktree's longest surviving Oaktree volunteer, Frances Gamble, where you sit next to someone in class until you bug them enough to donate there and then in front of you.

Well, there you have it guys, a bulletproof plan to fundraising! Pearfect!

Good leek!




When you sign up for LBL we won't leave you high and dry. We've got plenty of tips and tricks like this one to make your challenge as easy and as smooth as possible. So what are you waiting for?



Finbar is currently studying law and international politics. He only enjoys pasta.




Previous Post <----> Next Post