A big part of Live Below the Line is bringing people together, building camaraderie and bonding over shared experiences (ie. hunger and food cravings).
But right now, when so many of us are supposed to be social distancing and self-isolating, the community aspect of our fundraiser seems tough to achieve.
I mean, you can hardly have friends over for Dine Below the Line during a state-wide lockdown (we see you, Victoria).
My team and I have been trying to work around this roadblock by scheduling nightly zoom calls during challenge week to make the week go by a little easier. Over the past few months, I've found myself relying on my team more than ever. While we've been social distancing, my team members have been a constant source of comfort. I always find myself looking forward to Friday morning video conferences and banter.
Even though I always envisioned campaigning and fundraising for LBL with my team at HQ, their support is even more important to me now, and we're still adamant about doing the challenge together.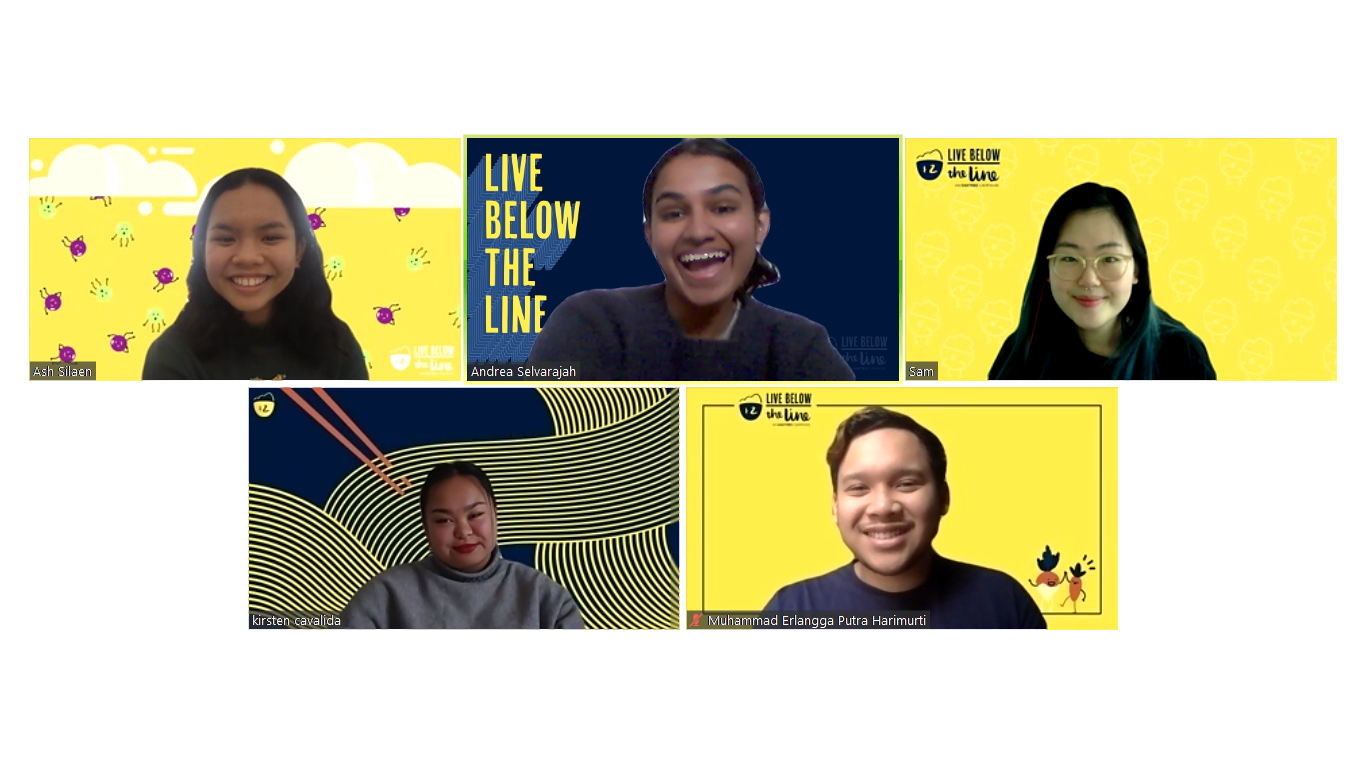 Ahead of challenge week, we decided to make things a little more exciting by creating LBL-themed zoom backgrounds (they are adorable as seen above) and have scheduled meal-prep sessions and dinner dates throughout the week.
Over the past couple of months, Oaktree's resident baker Jane hosted group baking sessions on Zoom to facilitate team bonding. That's where I'm drawing my inspiration from for our virtual Dine Below the Line.
Here are some steps you can take:
Decide if you're hosting a meal-prep session or a dinner. You could even do both!
Plan your menu and ingredient list. If you need some inspiration, check out our earlier post about ingredient hacks!
Download our LBL-themed zoom backgrounds here.
Schedule a date and time. If it's a meal-prep session, remember to do it early or prior to challenge week!
Send out your DBL invitations! Don't forget to include your menu, ingredient list and zoom backgrounds.
Just because we're apart doesn't mean we can't stay connected. Challenge week or not, sharing a meal is such an important part of creating a sense of community. It's easy to overlook, but sharing a meal is a precious sliver of time to connect and check-in with one another.
Planning, cooking and eating meals with friends, even virtually, is an excellent way of staying motivated and accountable. That's why I'll be hosting a virtual Dine Below the Line next week.
Will you?
Sam xx