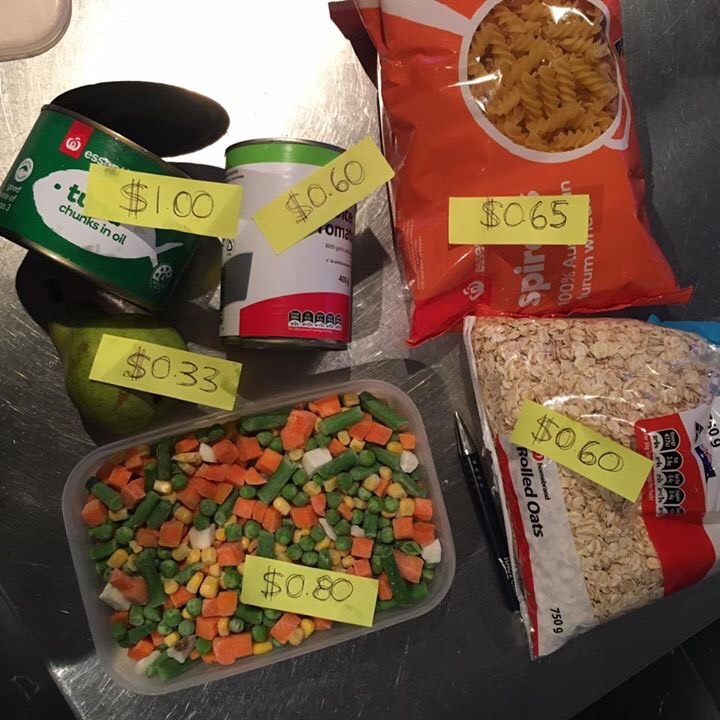 Smudge Eats blogger Emily did the Live Below the Line 2 Day challenge and live-blogged it!! Today we've got a summary of all the highs and lows she experienced!

Pre challenge:
On any regular day, I can be found eating up to eight times a day. Working in an office where culinary deliveries are often, and food is talked about/written about/photographed all the time, it's hard not to!
But! It's a sobering reminder that $2 isn't just a made-up number, pulled out of thin air by Oaktree to inflict pain and suffering on the middle class. For thousands across our great land, $2 is all they have to survive. And that's without the creature comforts others enjoy daily – a warm bed, access to running water all the time and a support network that's unfailing in their encouragement.
So off I go into the wild, not sure what the next 48 hours will bring. With the prospect of no caffeine, minimum vegetables and definitely no slices of cake, it's going to be something to remember – or forget.
Day 1
7:30am
I wake up hungry. Not a great sign. Should have eaten more yesterday. I usually eat breakfast at work, so I get myself ready and ride to the office. Feeling okay so far – my body is used to this journey without eating.
10am
It's normal coffee time. Eyes are already feeling tired. Wonder about the validity of drinking office tea. Check official rules, it's a no go. Drink water. Not the same.
Stomach is already feeling empty. This is not good. Have to edit three restaurant pieces. Hoping food sounds gross so I won't be reminded (definitely not the case, but telling myself that anyway). Thinking capacity is reduced, mind feels foggy. I'm only an hour in – what is this?
11:45am
Stomach is making audible rumbling sounds. Hoping workmates aren't too disturbed. Check Instagram to distract myself – BAD IDEA.
12:25pm
Succumb to hunger, get lunch ready. Realise I've left a portion of tuna at home. Don't have enough energy to get angry at self, think of all the tuna I'll be having for dinner. Surprising amount of pasta, very reassuring. Resist temptation to scoff down.
1:30pm
Hunger has set in again. But it's another 5 hours until I eat. This is going to be a rocky ride.
3:45pm
Good news. The stomach has figured out we're going out alone, with minimum nutrition. Like a puppy that's figured out it can't play anymore, it's stopped telling me it's hungry. So I've stopped noticing. We're getting somewhere! Thanks to a tip from a LBL veteran, I'm also downing lots of hot water. It seems to be keeping the hunger pangs at bay.
In order to get me through to bedtime, I'm aiming for a 7pm dinner. Only 3 hours to go!
6:45pm
Dinner time! Finally! The pasta, mixed vege and tuna get another showing, along with the tuna I forgot from lunch. A cup of hot water is my tasty accompaniment. But as I'm waiting for the microwave, I notice a juicy mandarin just waiting to be peeled and devoured. The temptation is all types of high…I don't though.
Being at home is a whole different type of ball game. Every time I open the fridge, the saffron feta I bought from Yarra Valley Dairy on the weekend is just staring at me, willing me to dip my finger in its delicious oils. In fact, everything in the fridge is tempting me – even the half a capsicum that's waiting to be cooked when this is all over.
I eat slowly, hoping that the pasta will last forever. It doesn't and I resign myself to an early bedtime, trying to avoid that late night stomach stir. Day Two will be interesting – most say the only way is up from here, but I'm not too sure…energy levels are low and I'm already hungry?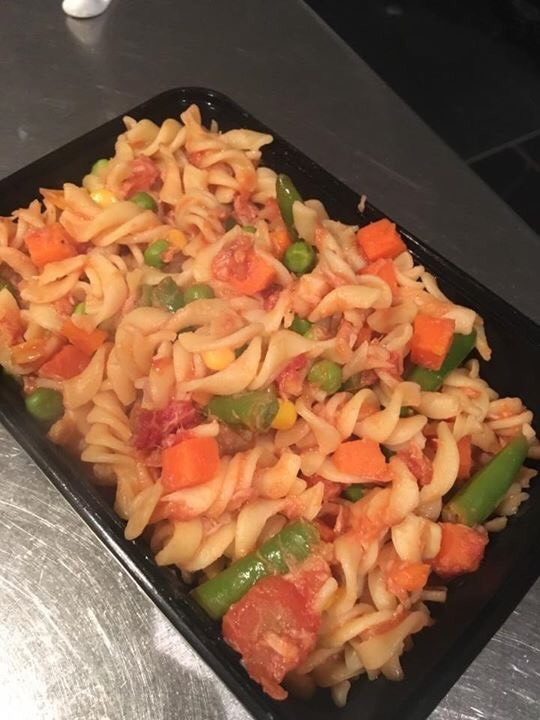 Day 2
7:45am
Not too hungry this morning. Make it to work feeling okay. Oats seem to rouse the stomach and the hunger sets in. Once again, what I'm eating isn't enough. Reschedule coffee shop meeting to office – there's no way I can handle being around coffee now.
10:45am
Religiously making pots of hot water to get me through. Not helping.
12pm
I struggle to make it through to midday and am standing by the microwave at 12:05pm. Focusing is getting harder and god knows what I've actually done this morning. Pasta is devoured and I feel better – just.
2pm
Yeahhh… that feeling better feeling didn't last very long. Give myself a time out on the work couch and browse through Met Gala dresses. Return to desk feeling slightly more energetic. T-minus 5 hours until dinner.
4:45pm
The end is nigh. But just like those times when you're really excited for dinner but then the day goes really slowly, the end seems really bloody far away. That dull ache has now become an unwelcome partner, hanging off my body until I can truly kick it to the kerb.
I spend 10 minutes researching where exactly my first real meal will be, signing myself up for a serve of hotcakes come 8am. I can-not wait.
7:30pm
So turns out a great way to avoid hunger is to literally sleep on it. Upon getting home, I collapse onto our couch, give the dog a pat and promptly nap for two hours. Waking up groggy at 7:30pm, I'm pleasantly surprised to find my stomach hasn't figured out where we are at. It makes dinner a nice touch, as I'm eating just to eat, not ravenous. I retire to bed satisfied, the first time in two days that's happened.
Day 3 (i.e it's all over)
7:30am
I literally jump out of bed and run to the kitchen, searching for….a mandarin. Yes, no flavour for two days and that's what I'm eating. But the best is yet to come. Rustica Sourdough is my first 'real-food' stop and I settle in for one of their breakfast boards (have decided that a hit of sweetness like hotcakes may make me feel bad, not good).
When I go to pay, the reality of the situation hits – my breakfast was nearly ten times what I'd been living on over the past few days. Whilst delicious and worth every penny, it reminds me that, yes, I am a very lucky duck. Living below the line sucks, and for some, there is no choice. It's definitely something I'll be thinking about when those hunger pangs no doubt strike again.

To more read about Emily's experience (including falling asleep mid-yoga session) check out her blog here!
You can also donate to her!
The two-day challenge is a great way to get involved with Live Below the Line and raise money and awareness for extreme poverty whilst keeping your time commitment relatively low. Don't forget, you can do any of the three Live Below the Line challenges at any time in May and June!



Previous Post <----> Next Post